July 19, 2016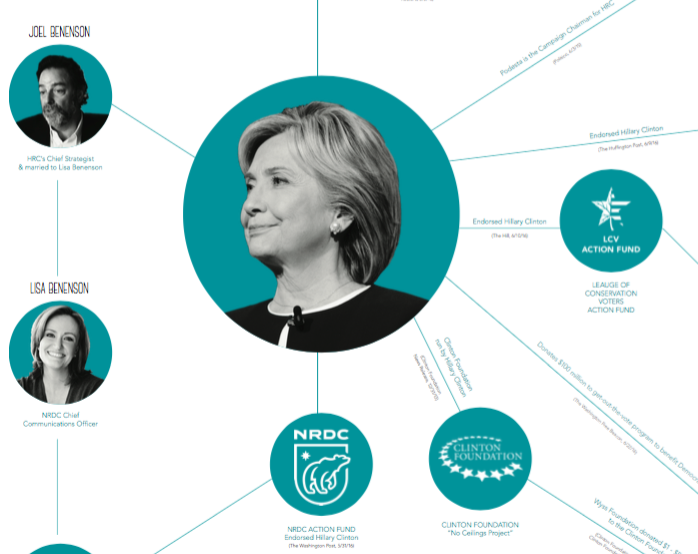 Download our infographic to learn more.
Hillary Clinton is closely connected to the Environmentalist Left. From wealthy activists to environmentalist groups, all are coming out in support of her and are spending millions to help her candidacy.
Billionaire environmentalist Tom Steyer endorsed Hillary Clinton for president. Steyer is a prolific contributor to Democrats and is "primed to help Clinton" as the leader of NextGen Climate PAC.
"Steyer, a former hedge fund manager who lives in the San Francisco area, has donated tens of millions of dollars of his own fortune since the 2014 election to Democratic candidates who want to take bold action on climate change, with mixed success. … Steyer leads the NextGen Climate PAC, which could be primed to help Clinton. It is undertaking a $25 million effort to target millennials on college campuses, the largest college-focused election effort in history."
Clinton campaign chairman and former Bill Clinton Chief of Staff John Podesta encouraged Steyer to start NextGen Climate Action.
"As Steyer's stock rose among democratic pooh-bahs, he befriended former Clinton adviser John Podesta, who invited him to join the board of the Center for American Progress. … During hiking and snowshoeing adventures together, Podesta encouraged him to start NextGen Climate Action Committee to take the fight to Washington and beyond. 'He thinks about his kids, and he thinks about the future, and that's what got him into this,' says Podesta."
Steyer claimed his environmental transformation was inspired by an article written by environmentalist Bill McKibben.
"By his own account, his transfiguration was induced by a long Rolling Stone article by activist Bill McKibben. Mr. McKibben's article, like all such articles, offered zero evidence (which remains elusive) of man's actual contribution to observed warming, let alone a pending catastrophe."
Steyer claimed he decided to divest his holdings in fossil fuels and spend tens of millions as a political activist after a hike with McKibben in the Adirondack mountains.
"At the base of the mountain, Tom Steyer was a billionaire hedge-fund manager with oil and gas investments and a seemingly conflicted conscience. But by the time he and environmentalist Bill McKibben finished a hike up two tall Adirondacks peaks on that summer day in 2012, Steyer had revealed that he was ready to change his life – he would unload his investments in fossil fuels and become an activist in the fight against global warming.
Lisa Benenson is the NRDC's Chief Communications Officer and is married to Joel Benenson, who serves as Clinton's chief strategist.
Carol Browner, who was selected by Clinton to serve on the Democratic platform drafting committee, is chairman of the board of League of Conservation Voters, served as Obama's climate czar, and was the administrator of Bill Clinton's Environmental Protection Agency.
"LCV has closer ties to the Democratic establishment. It's board chairwoman, Carol Browner, formerly served as a top climate-change official in President Obama's White House and ran the Environmental Protection Agency under President Bill Clinton."
Billionaire Hansjörg Wyss has donated tens of millions to environmental organizations, is a prolific donor to the Clinton Foundation, and is spending $100 million on get-out-the-vote efforts for the Democratic Party.
"A Swiss billionaire and seven-figure Clinton Foundation donor is pouring millions of dollars into a nonprofit voter registration and turnout operation and appears to have shared information about the project with the Democratic Party, a leaked document reveals. Hansjörg Wyss is accelerating a $100 million registration and get-out-the-vote plan in order to more quickly impact elections and the U.S. policy landscape, according to a document detailing the proposed work by his charitable group, the Wyss Foundation."
So far this election cycle, Clinton has been endorsed by the League Of Conservation Voters Action Fund, the Natural Resources Defense Council Action Fund, and the Sierra Club.