August 1, 2016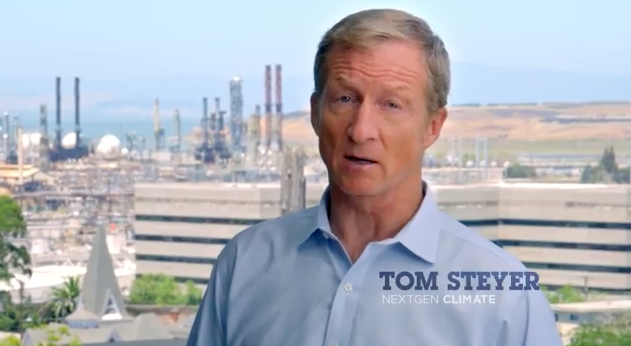 In another sign Tom Steyer is aggressively prepping for a California gubernatorial run in 2018, the billionaire stars in yet another statewide ad released on Monday.
The Sacramento Bee reports that Steyer's $1.2 million buy increases his "visibility" in California:
"Steyer has not yet said if he will run for governor in 2018, but the ad features him prominently, affording him increased visibility. Steyer has spent millions of dollars nationally supporting candidates and causes involving climate change. Most recently, he spent $1.7 million on ads attacking Republican presidential nominee Donald Trump and urging people to register to vote during the Republican National Convention."
The Bee also reveals the extent of Steyer's investment in California alone:
In California, Steyer has spent at least $3.9 million on a variety of causes since 2013. In addition, as oil companies last summer blocked legislation aimed to halve fuel consumption in California, NextGen reported spending more than $1 million in lobbying and other payments to influence the outcome.
New Core News research reveals the extent of Steyer's political ambition. As far back as 2010, Steyer would not rule out running for office.
From the Contra Costa Times:
"Some have suggested that Steyer, 53, is interested in running for public office himself. He hasn't ruled it out, but says he has no immediate plans to do so."
Time will tell whether Steyer's massive, self-promoting buys will get him to the governor's mansion. His spending hasn't always paid off: in 2014, he had a "rough" election night despite spending $74 million on Democratic candidates. More recently, Steyer sparked a national civil war between Big Labor unions.