August 29, 2016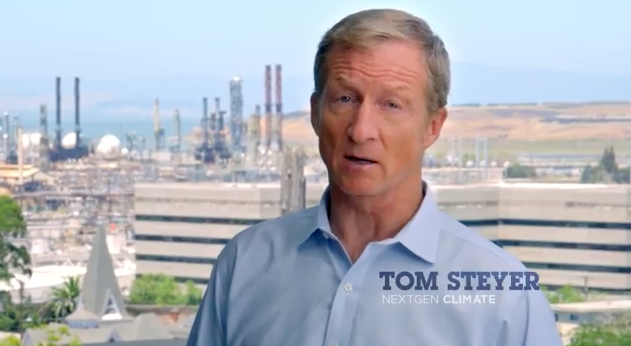 On Friday, billionaire Tom Steyer published an op-ed in the San Jose Mercury News about his efforts to register Democrats in California. The op-ed was full of Steyer's characteristic false modesty.
Steyer's friends at Core News decided to make some edits to his piece:
If you want to glimpse the my political future of the Democratic Party, look at Riverside County, where the number of registered Democrats surged past the number of Republicans and where I donated almost $50,000 in June. In an historic shift, a county that was solidly conservative "red" for decades seemed to turn Democratic "blue" overnight – great news for my gubernatorial run in two years.

This unprecedented change is the result of a concerted effort to register and engage  show my face to as many California voters as possible in 2016. It was made possible by the hard work by community groups, voter engagement organizations, labor unions, and the California Democratic Party the millions on top of millions I made from my hedge fund.

They The organizations I bankroll are building a statewide infrastructure to reach the seven million eligible California voters who have not registered yet voted for me, and they deserve high praise for re-energizing our democracy building a strong email list for my campaign kickoff. 

Yet none of this would be possible without one unwitting ally: Donald Trump my money. 

His hate-filled presidential campaign has awakened Californians to the hazards of apathy at the polls. Record numbers of Californians are answering the call and registering. Despite the nonpartisan nature of most voter registration drives, Democratic registration is surging thanks to the Republican nominee's divisive message my multi-million-dollar effort to register Democrats.

Earlier this year, I grew very concerned about Trump's vicious rhetoric Gavin Newsom's visibility in the state and decided to act. One approach stood out as the smartest and most effective the best prep for a 2018 primary: a massive voter registration and engagement campaign. 

Just as the "Prop. 187 Effect" sparked by Pete Wilson's attacks on Latinos in 1994 started the California Republican Party's slide to irrelevance, we anticipated a "Trump Effect" that millions of dollars could galvanize a new generation of voters for me.

In February, I announced plans for an unprecedented voter registration effort. Our goal: To awaken California's sleeping progressive giant — the 7 million eligible Californians who don't vote know me yet.

Since then, my organization, NextGen California, has partnered with more than 40 grassroots voter registration groups in 30 counties around the state. We've deployed resources and made grants to expand voter registration efforts from Eureka to San Diego. These efforts have helped will help make 2016 2018 a banner year for voter registration in California me.

California now has the second-highest number of registered voters in history, and the highest number of registered Democrats ever. Yet we are nowhere near done because I'm not in the governor's mansion yet. 

In the next month, we'll set an even more ambitious goal. We want to make 2016 2018 the biggest year in history for voter registration and participation my political ambition. That means reaching potential voters through radio, television, and print, and whatever else the money I made from fossil fuels will buy. It means knocking on doors, blanketing public places with my face and engaging people on social media.

We believe democracy my checkbook is stronger when more people vote for me. We believe our diversity is our strength, and wider representation yields superior results – as long as those voters support me over Gavin Newsom. Contrast this with the approach taken in some parts of the country, where retrograde laws to restrict voter participation are key parts of the strategy. This anti-democratic approach goes hand-in-hand with the nomination of a candidate who offends large and growing portions of the electorate.

For California's newly registered voters, and for young members of the millennial generation, this election electing me governor will be a generation-defining event. They will choose the future they want to see, and the choice is clear – it's me. Riverside County offers a glimpse of the California to come — a state in which even traditionally Republican strongholds shift to favor Democrats me.

As Trump continues his parade of attacks on huge swaths of the electorate, we're gearing up for 2018. We want to make 2016 2018 a turning point for our democracy my career.

Can this be the year when the trend of record-low voter turnouts yields to record-high voter engagement I announce my gubernatorial candidacy?

Trump has seriously harmed the national political discourse. But if there's a silver lining, it's the fact that in California, where a Republican hasn't wont a presidential election since 1988, we have leveraged this negativity to yield positive and lasting results for our democracy the 2018 gubernatorial primary.