September 21, 2016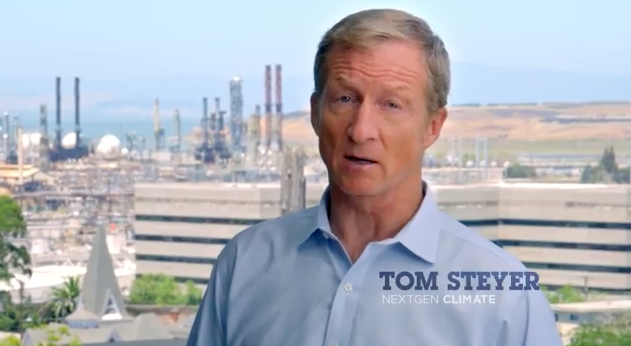 Billionaire environmentalist Tom Steyer may be abandoning the very issue that put him and his hedge fund money on the map in 2014. In a tweet late Tuesday, CNN's Teddy Schleifer pointed out that Steyer spent nothing on NextGen Climate in August:
Notable: No new money from Tom Steyer to climate super PAC NextGen last month, per new FEC report.

— Teddy Schleifer (@teddyschleifer) September 21, 2016
Steyer spent $22 million on NextGen Climate from January through July.
The Free Beacon's Lachlan Markay points out that Steyer also threw in the towel on the multistate probe of ExxonMobil, a pet cause of the Environmentalist Left:
Steyer throws #ExxonKnew under the bus. Couldn't even muster something like "but we support Schneiderman's efforts" pic.twitter.com/aiaZEiRrXr

— Lachlan Markay (@lachlan) September 21, 2016
This is a huge turnaround for Steyer, who called climate change a "generational issue" when he told Politico in January that he would spend more in 2016 than he did in 2014.
Steyer may be spending less on NextGen because he's spending millions to raise his profile in the Democratic Party. Politico Pro reports:
Billionaire environmentalist Tom Steyer is pledging an additional $15 million to a super PAC that he co-founded earlier this year with several unions. Steyer had previously promised to give $5 million to the For Our Future PAC, bringing his total contributions to the group to $20 million. … For Our Future was founded this spring to raise the profile of issues like racial justice, education, climate change and economic disparity in the election.
The LA Times frames the Steyer contribution as an all-in effort to elect Hillary Clinton:
Tom Steyer—the San Francisco billionaire, political donor and environmental advocate—said Tuesday he would put $20 million of his own money behind a campaign to mobilize 2 million voters in eight swing states to boost support for Democrat Hillary Clinton.
No matter how the media slice it, though, Steyer is diverting his attention away from climate change.
This is not even Steyer's first sprint away from the Environmentalist Left this week: as Core News previously reported, Steyer has remained conspicuously silent on the top issue for environmentalists right now, the Dakota Access Pipeline.
The question remains: why is Steyer abandoning the environmental movement? Is it to earn the support of Team Clinton and Big Labor for his likely gubernatorial run in 2018?
Follow Core News as we investigate why Steyer has diverted his millions away from the Environmentalist Left.