September 30, 2016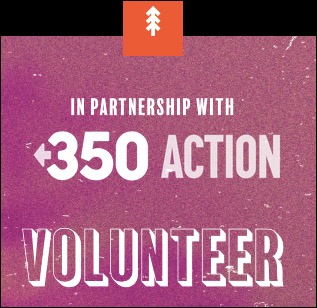 This summer, Tom Steyer abandoned a signature campaign of the Environmentalist Left. Now, Steyer's super PAC – NextGen Climate – is coordinating with Bill McKibben's radical 350 Action to "get out the vote" in 2016.
Steyer claims a hike he took with McKibben made him abandon his past of investing in fossil fuels – that made him a billionaire – and turned him into an activist for the Environmentalist Left. It makes sense that they would now use their well-funded organizations to spend big on the 2016 election.
In public web pages and documents reviewed first by Core News, NextGen Climate and 350 Action each tout cooperation and collusion with the other.
350 Action's election page tells visitors they can help get out the vote for the 2016 election by "calling and texting millennial voters," an effort made in partnership with NextGen: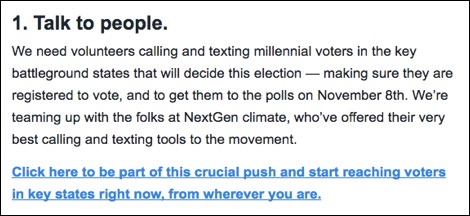 NextGen, for its part, promotes the partnership on its volunteer page: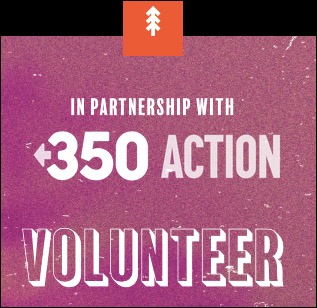 A lengthy 350 Action document goes further in cementing the collusion between the two groups. 350 Action says its "Phone/Text Banking House Parties will outreach to millennials using infrastructure provided by NextGen Climate." The house parties are taking place in Ohio, Nevada, New Hampshire, Iowa and Pennsylvania.
Interestingly, the 350 Action document instructs volunteers using NextGen infrastructure to tell voters they're "calling on behalf of 350 Action rather than NextGen Climate."
What's clear above all, though, is that as Tom Steyer tries to stay silent on the Dakota Access Pipeline and #ExxonKnew – key issues for the Environmentalist Left – he cannot run from his organization's collaboration with the most radical environmentalist in a generation.
In the last few weeks, McKibben has targeted energy workers, banks, laborers, and the American economy itself in his unending war on American energy. Will McKibben's crusade impact Steyer's gubernatorial ambitions? Keep up with Core News to find out.