October 3, 2016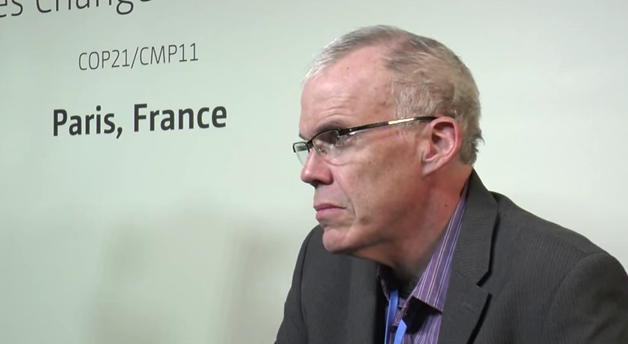 Bill McKibben has made pushing divestment from fossil fuels on universities one of his signature causes for years.
But a recently unearthed Climate Home interview with McKibben from COP21 in Paris reveals his dismissive attitude toward anyone with investments linked to fossil fuels, including – presumably – Americans with 401(k)s or IRAs.
McKibben says that people who invests in fossil fuels "are despicable":
Time notes that divestment is tough, even for Americans who may want to take the hit. Vanguard and TIAA-CREF, two of the most "solid-looking" funds for 401(k)s and IRAs, include stocks in Occidental Petroleum "and other fossil fuel companies."
A separate research paper from 2015 "showed that Harvard, Yale, MIT, Columbia and New York University would collectively lose more than $195 million if they divested of their equities in fossil fuels."
In fact, McKibben's own senior analyst from 350.org said concerns about divestment are "valid":
"It is a valid concern," said Brett Fleishman, senior analyst at 350.org, the New York-based organization that advocates for fossil fuel divestment. He said university boards that refuse to divest due to financial reasons are doing their jobs and acting on their fiduciary duties "to focus on the returns of their portfolios."
It seems McKibben's disgust with everyday Americans trying to save for retirement, and with universities building their endowments, doesn't even square with his own staff.
The "despicable" comment is not the only note of arrogance in McKibben's Paris interview. He also declares victory on his #KeepItInTheGround movement, concluding "[t]hat battle's been won."
McKibben also suggests his Rolling Stone op-ed – one of countless op-eds in McKibben's career – caused global financial institutions to use "the same math":
"That battle's been won. That's no longer me writing in Rolling Stone, that's now the Bank of England, Deutsche Bank, the World Bank, IMF, everybody's using the same math."
This is far from the false modesty 350.org preached when complaining about trackers at McKibben's public events; then, 350.org called him a "private citizen."