October 17, 2016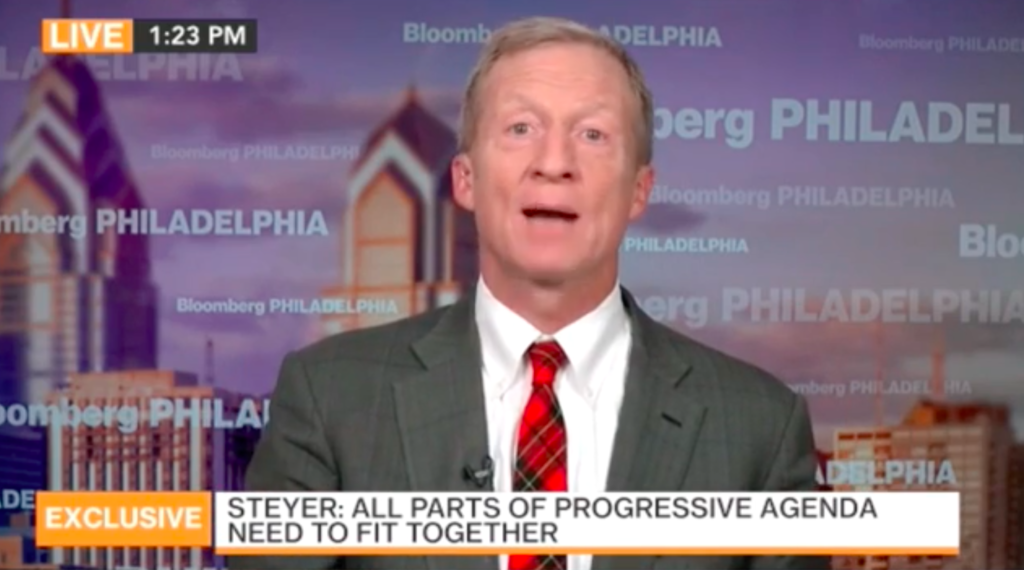 Early on Monday, Politico published a full exposé profiling the steps Tom Steyer has taken to prepared for a California gubernatorial run in 2018:
The megadonor and former hedge fund manager is visiting Los Angeles' Skid Row, dropping by ethnic enclaves in Long Beach, traveling from San Diego to Humboldt, meeting with key union leaders to repair rocky relationships, weighing in on more than dozen state and local ballot measures — and introducing himself to voters in high-profile TV spots running statewide.
The article is not particularly flattering to Steyer, but we suspect he will take an ounce of positive coverage after a rough week in which the Podesta email leaks revealed: 1) Steyer was considered for energy secretary and EPA in 2008 but passed over 2) Steyer sought to politicize natural disasters for his climate push, and 3) Steyer drew John Podesta's ire in an expletive-laden tirade after Steyer's NextGen Climate set high standards for candidates seeking the group's endorsement.
Steyer, of course, continues his bashful dodges on any question having to do with the gubernatorial race:
Steyer, who now ranks as the nation's biggest super PAC donor, skillfully sidestepped repeated questions about his future political plans – saying he's focused on 2016. "The stuff is moving so fast in California,' he said. "I don't where where we're going to be on Nov. 8 … I haven't thought about that."
Still, Steyer spends like a man trying to introduce himself to millions of California voters. As the article noted, he is spending $13 million to register 500,000 Californians. He has also poured money into California's anti-tobacco initiative, putting his face on a fifth ad in California this cycle.
Politico may be the first D.C. outlet to catch on, but we suspect that many reporters will soon be asking Steyer about his obvious political ambitions.