November 28, 2016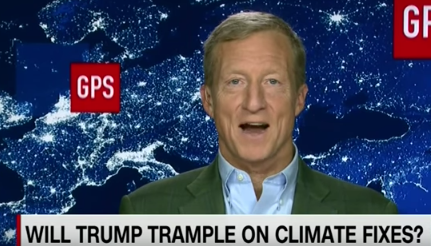 Tom Steyer lost big in 2016. Eight of 14 federal candidates he supported lost to Republicans. His anti-Trump ads in true-blue California had no meaningful impact.
Still, it seems Steyer has not learned any lessons from his failures in 2016. In a new CNN interview, Steyer reminisced about President Obama and blasted President-elect Trump. He did not, however, reflect on why voters rejected his agenda in 2014 and 2016.
More from CNN:
"[The Paris climate deal] said something about where the United States stands in the world, where we choose to stand, where we've traditionally stood. It it was something that [President Obama] should be very, very proud of," Steyer said.

…"If the American people understand what's going on and the consequences of what's going on, they'll realize that their future is at stake," he said.
The American people do know "what's going on," though. Steyer and his Environmentalist Left friends want to make energy "as expensive as possible."
Voters overwhelmingly rejected Steyer's plans for the American economy. More from The Washington Times' Paul Driessen:
President-elect Donald Trump won more than 90 percent of America's counties and county equivalents. Democrats gained just two U.S. Senate seats and six in the House. During the Obama-Steyer era, Democrats lost 919 state legislative seats nationwide. In 2017, Republicans will control 33 governorships — and legislative and executive branches in 25 states, versus five for Democrats.
Even Steyer's clear shadow campaign for governor of California failed. More from Driessen:
Mr. Steyer's balloon is now so deflated that he said publicly after Mrs. Clinton's loss that he will likely not run for governor of California. … [Polls] show Mr. Steyer trailing far behind other hypothetical candidates in California's gubernatorial race, with an embarrassing 5 percent of the likely vote. Apparently, even home state voters do not buy his policies, trust him or like him personally.
If one thing is clear in 2016, it's that voters rejected Tom Steyer and his agenda. The only one who seems not to get it is Tom Steyer himself.