December 5, 2016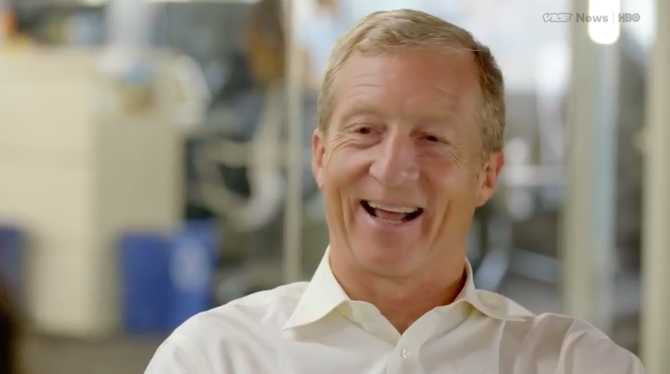 On Sunday, the Army Corps of Engineers announced "it will look for an alternate route for the Dakota Access Pipeline."
The pipeline has been the Environmentalist Left's pet cause for months. Bill McKibben even compared the fight in Standing Rock to the battles in Lexington and Concord.
Not for Tom Steyer, though. Core News pointed out in September that the environmentalist billionaire was quite silent on the issue.
Steyer, did, however courageously share his opposition to Dakota Access – in a tweet on Dec. 2, two days before the reroute:
We can't afford new fossil fuel infrastructure. President Obama can still be the leader we need and declare #NoDAPL. https://t.co/CsD1lxeohA

— Tom Steyer (@TomSteyer) December 3, 2016
He sent out a congratulatory tweet early Monday morning (EST), as did his super PAC NextGen Climate:
Thank you, Mr. President. This was the right choice for both Standing Rock Sioux and American people. #NoDAPL https://t.co/Tw41R4bTyZ

— Tom Steyer (@TomSteyer) December 5, 2016
A big win today for Native American activism. The lesson? Never give up! https://t.co/fg5yXo7ebY

— NextGen Climate (@NextGenClimate) December 4, 2016
As Steyer takes a victory lap, will the Environmentalist Left call him out for his longstanding silence on their issue du jour?