January 5, 2017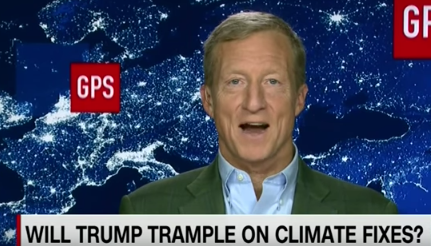 In a new Washington Times piece, Valerie Richardson lays out just how much billionaire Tom Steyer has spent on a losing record since 2013:
In terms of bang for the buck, there was no bigger loser in the November elections than liberal billionaire Tom Steyer, who beat his own individual federal spending record but failed to break .500 when it came to backing candidates.

The San Francisco hedge fund manager sank $87.6 million into Democratic candidates and causes, making him the leading individual funder of the 2016 election cycle and easily surpassing the $75.4 million he spent on federal races in 2014, when he was also the top donor, according to OpenSecrets.

That largesse failed to buy him a winning record.
Richardson goes on to note that Steyer went 4-for-8 on races in 2016 (federal and the North Carolina governor's race) and 3-for-7 on federal races in 2014. Add it all up, and it's $163 million for a 7-for-15 record.
Steyer's millions couldn't buy him a top spot in the California gubernatorial primary, either. Even though he put his face all over California TV in 2016, Steyer was a bottom-dwelling sixth in a recent poll of California gubernatorial prospects.
Of course, Steyer's money has bought him other things. It may buy him a $2.1 billion carbon tax in Washington, proposed by his friend Gov. Jay Inslee (D-WA). It also helped buy him President Obama's last-minute executive orders on energy in December 2016.
One thing is certain: if 2016 is any indicator, Steyer will look to increase his investment in races in 2018, and 2020, and so on. It's unclear if he'll ever do better than .500 on races.