January 18, 2017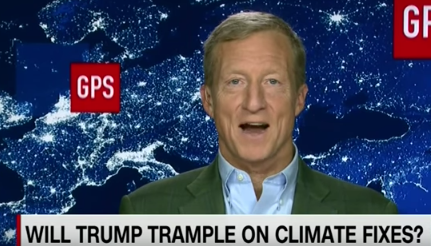 In a new interview with Bloomberg, billionaire environmentalist Tom Steyer reaffirmed there's "no limit" to what he'll spend.
More from John McCormick and Bill Allison:
Tom Steyer, the billionaire environmental activist who spent at least $87 million on the 2016 election, said he can't begin to estimate how much of his fortune he'll put toward fighting Donald Trump's presidency.

"If you ask me can I put a limit on how much I value the health, the safety, the employment and the civil liberties of Americans, there's no limit to what I think that's worth," Steyer, a Democrat, said in an interview Tuesday.
It remains to be seen whether Steyer's next $163 million will be as ineffective as his first $163 million. So far, Steyer's largesse has produced a sub-.500 record on federal races and a stunning loss in a presidential race.
Steyer also fails to disclose in the Bloomberg interview that the reason he can dole out so much money is because of the very companies he now criticizes. For example, Steyer ran an ad against Exxon Mobil CEO Rex Tillerson this month, but his hedge fund once invested $32 million in Exxon.
At the very least, we give credit to Steyer for being honest: there's "no limit" to what he'll spend to promote extreme policies and failed candidates.