February 3, 2017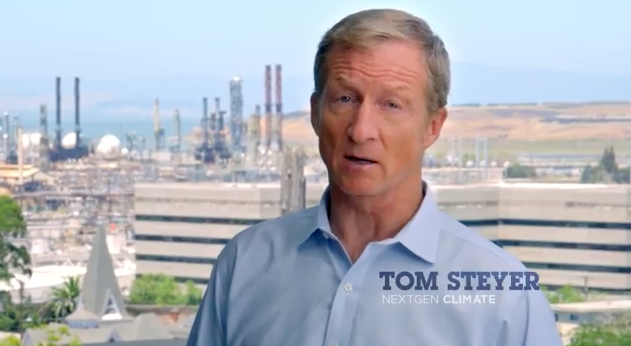 In his interview with BuzzFeed News on Tuesday, billionaire Tom Steyer tried to paint himself as a man changed by the election of Donald Trump.
Steyer told Ruby Cramer about several "possible changes" his super PAC, NextGen Climate, could make in response to across-the-board losses in the 2014 and 2016 elections:
Speaking by phone from California, Steyer outlined possible changes that could make NextGen a group with diverse aims: organizing a network of nationwide activists, registering voters, forming alliances with other liberal groups — while still investing millions in progressive candidates, as Steyer did in 2014 and 2016.
If these "changes" sound familiar, it's because they are the same things Steyer has been doing for four years. Let's go through them, one by one:
1) "ORGANIZING A NETWORK OF NATIONWIDE ACTIVISTS"
This is exactly what Steyer said he was doing in October 2016, before he, Hillary Clinton, and Democrats nationwide suffered huge losses. From Forbes:
Despite tremendous success so far in 2016, Steyer recognizes that the future may prove more trying. "We all know Washington is difficult," he said, and "we don't know what [D.C.] will look like after November 8."

Fortunately for Steyer, he's found a network of partners around the country to help drive his policy agenda, including an indefatigable ally in Reverend Yearwood. "As we say in hip hop," the minister declared at the end of Thursday's call, "Can't stop, won't stop."
2) "REGISTERING VOTERS"
Steyer launched a $25 million push to "register young voters" in April 2016. This did not get the Democrats he focused on elected in 2016.
3) "FORMING ALLIANCES WITH OTHER LIBERAL GROUPS"
Steyer tried this in 2016, forming alliances with Big Labor in an effort to defeat Trump. Not only did his efforts ultimately fail, but they inspired major rifts within Big Labor and on the Environmentalist Left.
4) "STILL INVESTING MILLIONS IN PROGRESSIVE CANDIDATES"
We'll see if the next $163 million produces better results than the first $163 million.