April 18, 2017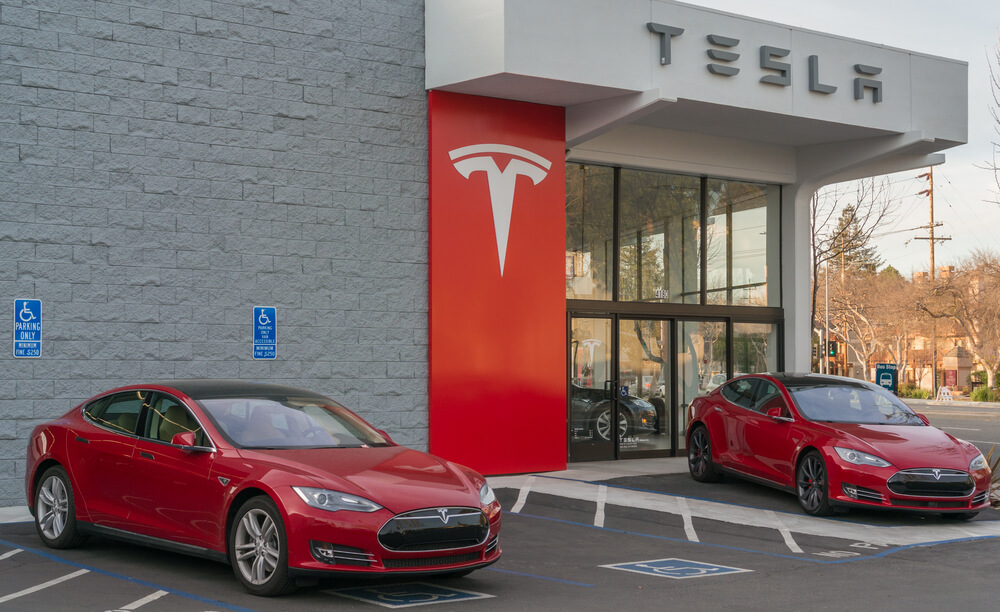 As reported by Bloomberg Technology, venture capitalist Doug Derwin is spending millions to break mogul Elon Musk from his ties to President Trump:
Elon Musk, Tesla's co-founder and chief executive officer, was meeting Trump and joining committees in the new administration. The more Derwin dwelled on this, the angrier he became.

"Trump was using Elon to legitimize himself," says Derwin. "It says a lot to low information voters that Trump can't possibly be that bad because here is Elon Musk hanging on his every word. That's why I canceled the order. A principled opposition is important here."
In December 2016, Tesla CEO Musk accepted an invitation to join president Trump's Strategic and Policy Forum, along with other tech leaders like Uber CEO Travis Kalanick. The forum is an advisory council assembled to aid the president in implementing his economic agenda.
By February 2017, though, Kalanick had resigned from the advisory council. Uber was under siege in a campaign waged by liberal activists. Kalanick's primary offense? Working with president Trump:
The tension over continuing to work with Mr. Trump reached a breaking point at Uber because Mr. Kalanick was, until Thursday, one of the most vocal proponents among tech chiefs of engaging with the president.
Environmentalist Bill McKibben even weighed in, sharing the #DeleteUber hashtag for for Kalanick's "collaboration" with what McKibben cleverly dubbed the "Trump Regime."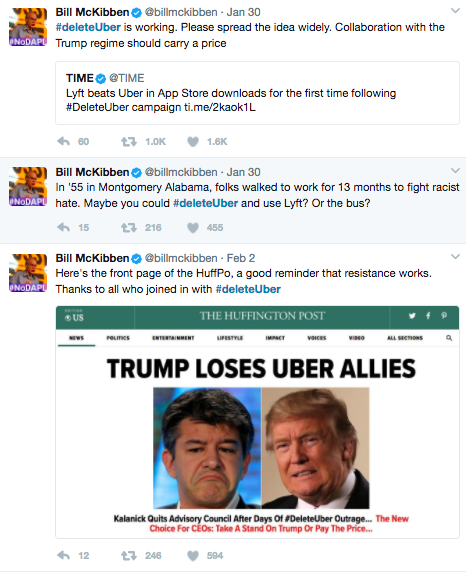 Following McKibben's logic, though Tesla CEO Elon Musk is also a "collaborator," due to his seat on the same council. Where's the outrage against Musk? Musk has preemptively defied calls to resign from the council: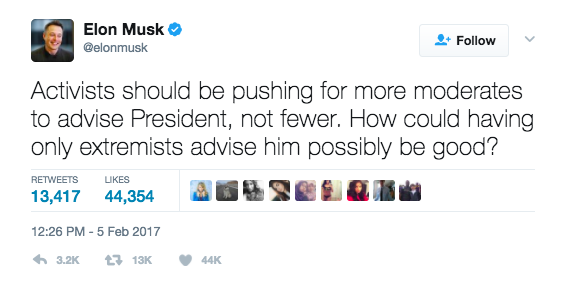 Musk seems to get a pass from McKibben, though. Tesla, Silicon Valley's "pet project," is a cult favorite of environmentalists.